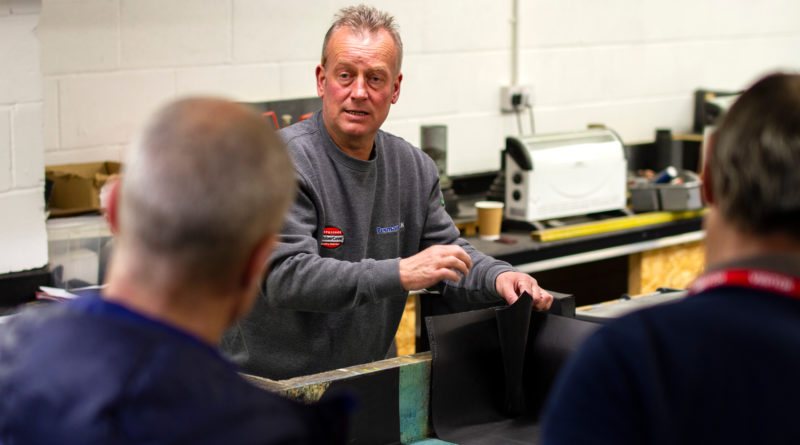 With an increased industry focus and stronger end-user awareness of safety and high-quality installation standards, specialist training is more important than ever before. Managing director Adrian Buttress discusses his belief that contractors should "train, and train, and train".
For me, the reputation of the roofing industry – and flat roofing, in particular – has always been inconsistent. Historically, the industry has been marred by non-professionals offering low budget and quick fixes to unaware consumers. However, both rubber EPDM and the wider flat roofing industry is full of experienced, highly skilled professionals – something we need to shout about and do more to encourage across the board.
To boost this reputation and the great work that is being done daily, as well as preventing potentially damaging performance issues, contractors should make the most of the training and technical assistance that's on offer throughout the industry.
Even the most qualified and experienced roofers should keep on top of continuing professional development (CPD) to enhance their skills in an everchanging sector and, in turn, help to raise industry standards.
We're very proud to have trained nearly 5,000 people over the past 16 years at the Firestone RubberCover National Training Centre. Our one-day EPDM training course equips contractors with everything they need to know about the Firestone RubberCover rubber roof system, and, once completed, allows them to inspire trust throughout their client base with the offer of a 20-year membrane warranty.
Getting to know the products you're working with
In a report published in February 2018, the Chartered Institute of Building found that 54% of its members believed qualifications were purely "tick box exercises" that placed too much focus on the process, rather than the product itself.
This further reinforces my opinion that, as an industry, we need to push for anyone purchasing roofing products to fully understand their capabilities and how they are used to support the highest possible installation standards.
A common example of how a gap in education impacts standards relates to the code on the EPDM roofing membrane, which highlights when a product is a genuine Firestone membrane. Often, installers and consumers remove this seven-digit serial number, but it reveals a lot of information that could come in handy further down the line.
The unique code tells us that the product has been manufactured by Firestone for the European market, along with the date it was made and on which shift – allowing us to cross reference it with quality control. Incidentally, we have never seen a Firestone membrane failure in all the time we have been a distributor.
It's also important to ensure the adhesive you're using during the installation process is genuine. I've seen isolated cases where an adhesive has failed, and it's turned out that the product they were using wasn't authentic – I've heard of cases where a Firestone label has been plastered over a cheap adhesive to try and pass it off as genuine. Training courses can help you identify product characteristics and qualities to quickly determine whether a product is real or fake.
Furthermore, traceability is becoming something of a hot topic, particularly in the commercial sector, following the Grenfell disaster. Because of this, we always advise contractors to only use quality materials with a CE mark and BBA certificate – and insist they see this certificate from their supplier. Again, these are valuable pieces of information to make contractors aware of as they are likely to be the ones asked for proof of certification if a fire or warranty claim is required.
They also prove that a membrane meets current European requirements in the field of safety, health, environment and consumer protection.
The benefits of using a full system
Taking a full system approach – consisting of a membrane, adhesive, tape and primer – also aids traceability. Industry proven systems have been designed to work together harmoniously, making the resulting performance reassuringly predictable. In an increasingly difficult and competitive market, this type of guarantee can go a long way to strengthen reputation.
The single system solution is hardly a revelation considering that the problem of unreliable results clearly stems from overly using a mix of products. But it's important that it's reiterated and heard clearly by the industry – particularly because there are stockists out there that think they offer a full system but, in a few cases, I've seen differently.
This topic comes up time and time again at the product training we offer on site, and the team and I are regularly having to communicate the benefits of a single system to merchants and installers faced with extensive product choice.
Seeing training as an investment – not an expense
Training programmes not only cost money, but they also mean spending time off site, and it's understandable that smaller businesses may not have a dedicated budget for these qualifications. Because of this, many roofing contractors see training as an expense, rather than an investment.
However, as we've discovered, untrained employees and construction professionals will, inevitably, lack the knowledge to get the most out of the products they're working with. This ultimately means they are less likely to install a system that's fit for purpose.
But one of the strengths of rubber roofing is that it's an incredibly effective, but simple to use, product. So, training doesn't mean as much time off site as you'd expect – and it probably isn't as expensive as you'd expect (with our prices starting from just £99 plus VAT per person. Investing in just one day of training can bring so much new business for existing contractors, as well as new starters, and ensure you have highly skilled specialists on your team that fully understand a product's capabilities.
Stick to what you know
Another pitfall I've seen over the years is, after doing well on smaller, residential roofs, roofers get overconfident and chase bigger, commercial projects. My warning is that domestic and commercial projects are completely different animals with many variances – decide what side of the market you're on and stick to it, allowing you to become a specialist and really hone your expertise and enhance your skillset with regular training and refresher courses.
The industry's failure to consistently deliver quality installations is an issue that impacts on the reputation of the sector. And, at a time when the industry is struggling to attract and retain the new talent it so desperately needs, it's vital a collaborative approach is taken to build a better and safer future for our trade – as well as a strong and successful workforce for tomorrow.
Share This Story
Get in Touch

Please leave your details and someone from the PermaRoof Commercial team will be touch shortly to help you with your enquiry.
Permaroof UK® Ltd
Unit 1
Westway
Cotes Park Industrial Estate
Alfreton
Derbyshire DE55 4QJ
Tel: 01773 608 839
Fax: 01773 608 408
Email: Click here
Registration No. 4109502
VAT No. 764 2785 00
Permaroof (UK) LTD
Opening Hours
Mon – Fri (8am / 5pm)
We are closed on bank holidays and we re-open the following working day at 8am. Feel free to send us your enquiry during these periods and we can get back to you.
Contact Us
Please leave your details and someone from the PermaRoof Commercial team will be touch shortly to help you with your enquiry.
[contact-form-7 404 "Not Found"]
Permaroof UK® Ltd
Unit 1
Westway
Cotes Park Industrial Estate
Alfreton
Derbyshire DE55 4QJ
Tel: 01773 608 839
Fax: 01773 608 408
Email: Click here
Registration No. 4109502
VAT No. 764 2785 00
Permaroof (UK) LTD
PermaRoofUK Commercial Partners & Clients
PermaRoof has established links with some of the biggest names in our industry thanks to our reputation of excellence.