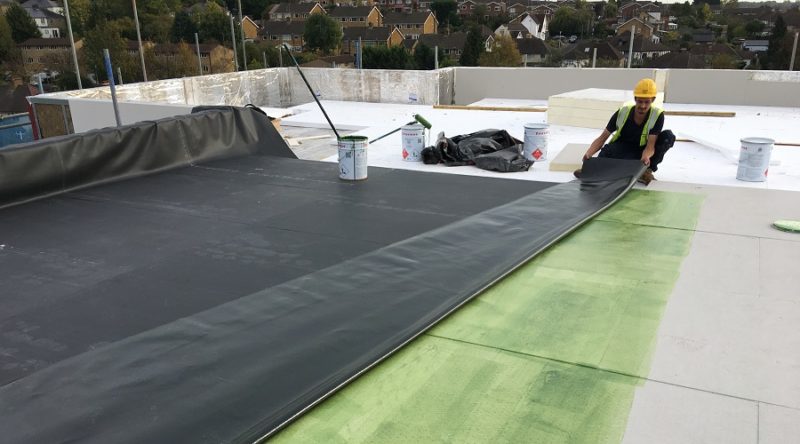 When it comes to investing in new facilities or refurbishing existing estates, choosing EPDM rubber roofing is a good place to start for guaranteed long-life performance. Sunny Lotay, national commercial manager at PermaRoofUK, considers the importance of warranties and longevity in today's market to prevent expensive, reactive roofing maintenance.
Community assets such as schools, leisure centres and libraries play a significant role in society, and are the vehicles that enable the public sector to deliver much-needed services to benefit the local population.
So it makes sense that when investing in new buildings or refurbishing existing sites, materials that guarantee longevity are specified – creating a lasting legacy for generations to come.
However, far too often, and possibly due to budget cuts, upfront investment in good quality materials that come with the inclusion of a warranty will not be made – leading to expensive, emergency short-term repairs, which is far less cost-effective than taking a preventative approach in the first place.
Specifying EPDM
EPDM membranes have been developed as long-term flat roofing solutions due to the optimal balancing of key ingredients to give extended durability. When a complete system is used, the material can be expected to withstand the elements for at least 50 years.
The single-ply roofing system has become increasingly popular in recent years – possibly because many EPDM flat roofs are still going strong decades after they were installed.
For example, in 1980, the world's first Firestone RubberGard EPDM roof was installed in Wisconsin, USA. More than four decades later, the roof is still performing well – despite tornadoes, snow, and extreme sun hitting the area. Since then, more than 1.5 billion square metres of Firestone EPDM membranes have been successfully fitted on commercial, industrial and residential roofs worldwide.
As well as the excellent waterproofing, EPDM is resistant to UV radiation as well as ozone and temperature fluctuations, which would otherwise age the product significantly. EPDM membranes have elasticity of more than 300% to accommodate building movement and extremes in temperature. Furthermore, flexibility and elasticity are retained down to temperatures as low as -45oC.
Once installed, the membrane requires little to no maintenance. Combined with the product's inherent durability and competitive installation cost, this results in a very low lifecycle cost.
Taking a full system approach
As with any roofing product, the proper application of the membrane is as important to the performance of the roofing system as the material itself.
The best way to ensure the longevity of the roof's performance – and avoid problems and failures down the line – is to ensure contractors are using a full water-proofing system of compatible products, consisting of a membrane, adhesive, tape and primer from the same brand.
Of course, as these additional installation products are unseen and hidden beneath the surface of a roofing membrane, it is easy to understand why some may choose to save on their cost. But ignoring the critical role these products play in a good quality roofing installation means the system may end up failing to a catastrophic – and expensive – effect.
Using a system of products purchased from one source offers a reliable long-life solution, particularly as they have been designed to work together in harmony and tested in a lab under various controlled conditions to prove durability.
Guaranteeing warranties
Warranties are the most effective way to guarantee quality assurance – providing local authorities with vital protection and security if their investment ends up failing. However, it is important to understand what is on offer – is the guarantee true to its description and does it have the value and backup required if it needs to be called upon?
Choosing a full system from a reputable brand will usually mean the inclusion of a warranty – giving you further peace of mind in your investment. But do remember to check the guarantee you are being offered – some cheaper options may only offer a five-year warranty, whereas more reputable brands, such as Firestone, will deliver up to 20 years.
As well as aiding traceability, which is more important than ever before on commercial projects, taking a full system approach from an established and reputable manufacturer will also provide a single-point guarantee. This simplifies the procedure if repairs are required; rather than relying on multiple third parties to deliver, you will only have to make a single phone call to resolve the matter.
Balancing requirements
Prevention versus cure is the age-old bugbear for decision makers and getting the balance between upfront investment and long-term maintenance is key.
While saving on the initial capital costs might seem like a good idea, if the system starts failing sooner than you think, the longevity of a building can be compromised – which undoubtedly means spending more money on maintenance or even replacements.
Manufacturers can take shortcuts in the product process to save themselves time and money, which allows them to offer their materials at a lower price than their competitors. However, it is important to remember that these more affordable prices only come by sacrificing on quality.
Investing upfront to further enhance the resilience of a structure will bear many long-term benefits – contributing to a more cost-effective whole life expenditure and reducing future upkeep fees.
More from the PermaRoof UK Commercial Blog
BUILDING on the success of the past 18 months, PermaRoof Commercial, part of PermaGroup, has grown tenfold after making several key hires in response to demand. Since its
With another week coming to an end, it's time for your latest instalment of #ReportingFromTheRoof. Our technical team have been out on site in Surrey this week with
Despite widespread construction and roofing industry materials shortages, PermaGroup is surviving the storm and continues to safeguard the future of the business through a unique
Get in Touch

Please leave your details and someone from the PermaRoof Commercial team will be touch shortly to help you with your enquiry.
Permaroof UK® Ltd
Unit 1
Westway
Cotes Park Industrial Estate
Alfreton
Derbyshire DE55 4QJ
Tel: 01773 608 839
Fax: 01773 608 408
Email: Click here
Registration No. 4109502
VAT No. 764 2785 00
Permaroof (UK) LTD
Opening Hours
Mon – Fri (8am / 5pm)
We are closed on bank holidays and we re-open the following working day at 8am. Feel free to send us your enquiry during these periods and we can get back to you.
Contact Us
Please leave your details and someone from the PermaRoof Commercial team will be touch shortly to help you with your enquiry.
[contact-form-7 404 "Not Found"]
Permaroof UK® Ltd
Unit 1
Westway
Cotes Park Industrial Estate
Alfreton
Derbyshire DE55 4QJ
Tel: 01773 608 839
Fax: 01773 608 408
Email: Click here
Registration No. 4109502
VAT No. 764 2785 00
Permaroof (UK) LTD
PermaRoofUK Commercial Partners & Clients
PermaRoof has established links with some of the biggest names in our industry thanks to our reputation of excellence.